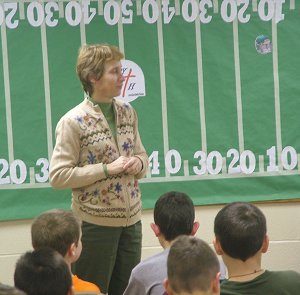 Jesus loves the little children, and so do we! Just as Christ took the time to reach out to the children, we believe it is important to take the time to teach the children the Truths of God's Word. During the developmental years is the time to build the firm foundation of faith through a saving relationship with Jesus Christ. We make every effort to meet the spiritual needs of children, teaching them about Jesus as early as we can!
Our children's ministries include: Sunday School for all ages every Sunday at 9:30am. Divided AWANA classes for Age 3 through 6th grade meet Sunday evenings during the school year from 5:45pm – 7:15pm.
Our nursery and classrooms are safe and kid friendly.
Our children's workers are required to have an Act 34 Criminal History Clearance and the Act 151 Child Abuse form on file in the church office. We carefully screen and appoint each worker to fit the age group and class that suits them best.
We believe our teachers are the best around and very capable of discipling your children in God's great truths!
If you have additional questions about our children's ministries, please contact the church office at office@fbcbellefonte.org or call (814) 355-5678.
Nursery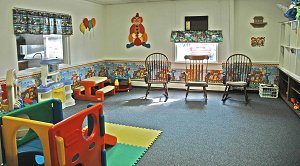 The church nursery is a safe and clean environment for the kids to play and learn. The nursery is staffed during each regular service.
Nursery volunteers must all have background checks. The nursery is available for infants – age 2. Please contact the church office for information regarding the nursery.
When the child turns 3, they may attend the Sunday School Class for 3-year old children and the Children's Church program for pre-schoolers. During the Sunday night Bible clubs, 3-year old children may remain in the church nursery. Upon their 4th birthday, they may begin to attend the Awana Buddies program.
Junior Church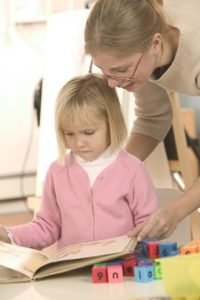 Junior Church is an exciting program for kids age 3 – 2nd grade and meets each Sunday during the morning worship service. Junior church meets year round. Kids should stay with their parents in the auditorium until dismissed to go downstairs to their class.
The junior church program is designed to teach and meet the spiritual needs of these youngsters, incorporating songs, play time, crafts, and Bible story times in fun and creative ways.
The safety and well being of all children is very important at FBC. All of our teachers and helpers are required to pass Criminal background and Child Abuse History checks.