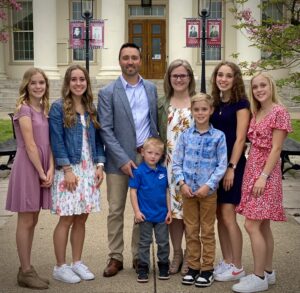 Pastor Greg Shipe
is a Maryland native, but he and his wife Connie love ministering with their family in central PA. The early influence of the Bible and godly parents allowed Greg to see his need of salvation at a young age, and after completing high school, h
e surrendered to full time ministry. Pastor Shipe and Connie met and graduated from Pensacola Christian College and then he also completed a Masters in Bible Exposition from Pensacola Theological Seminary. They were married in August of 2002.
Pastor Shipe and Connie have ministered together at FBC since July of 2011. Now, with 5 kids (yes, 4 girls and 1 boy!), life is full of excitement in their home. Their daughters' names are Kayla, Camryn, Rylee and Laikyn, and their son's name is Brock.
Pastor Aaron Hoffman
grew up in a farming and timbering community in central Pennsylvania and he and his wife Megan (who's sweet childhood home is Alabama) love the fact that God has called them to serve Him in a place that is very dear to their hearts. Aaron graduated from Northland International University in 2010 with a Bachelors degree in Biblical Studies with an emphasis in Biblical Counseling. Megan graduated from Pensacola Christian College in 2010 with a Bachelors degree in Marketing. Aaron and Megan have both completed part of their Master's degrees in Bible Exposition and Biblical Counseling respectively.
Aaron and Megan met during the summer of 2009 and were married in December of 2011. They have 4 children, Kasey, Trent, Grant and Whitney.

After graduating from college Aaron served for 3 summers as the co-director of a Christian Camp in central PA called Camp Kanesatake before coming to FBC as the Assistant Pastor in September of 2013.