Opportunities
Electric Piano (rotation basis)
Pianist (rotation basis)
The pianists assist in leading worship by accompanying the congregation in the hymns and worship songs on Sunday mornings and Sunday evenings. Contact Pastor Aaron Hoffman through the church office for more information.
Choir
Practices weekly September through May under the leadership of Carol Whitsel.
Performances are bi-monthly on Sunday mornings consisting of varied music styles. Practice is on Thursday evenings, 6:45 – 8:00 p.m. in the church auditorium. This is a great time of fellowship, singing, and preparation for leading in worship. Come join the fun!
Special Music (rotation basis)
Special music is presented during the morning and evening Sunday worship services. Various styles are presented, ranging from instrumental to vocal performances. Pastor Aaron Hoffman coordinates our special music calendar. Please contact him to be placed into the rotation for special music. New voices and instruments are always welcome and add variety and meaning to our worship times.
FBC Choir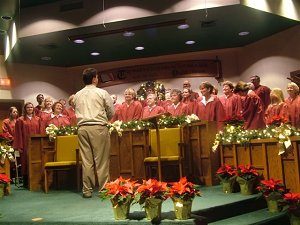 The FBC Adult Choir practices each Thursday evening, 6:45 – 8:00 p.m.
It strives to minister twice monthly on Sunday mornings, presenting traditional and Praise and Worship style music.
Our Choir Director, Carol Whitsel, always welcomes new members! Join the fun!